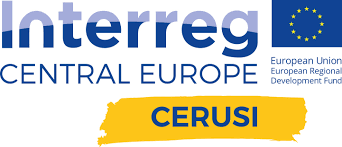 Il progetto europeo CERUSI, di cui Fondazione di Modena è partner per l'Italia, si prefigge di sviluppare competenze e capacità per l'innovazione e l'imprenditoria sociale. CERUSI è l'acronimo di 'CENTRAL EUROPEAN RURAL SOCIAL INNOVATION' – Implementing Central European Rural Social Innovation Lab Caravans to build skills and capacities in social innovation, social entrepreneurship and circular economy.
Le regioni rurali dell'Europa centrale spesso mancano di strutture di sostegno per trattenere le persone nel territorio. Contrariamente alle aree urbane, ci sono pochi hub di accelerazione o altre opzioni che offrano supporto alle persone che vogliono apportare cambiamenti in positivo nella loro comunità. Sebbene l'UE abbia investito molto nello sviluppo regionale, gli abitanti delle regioni rurali spesso non sono raggiunti dai progetti, perché le istituzioni che li conducono sono situate nelle aree urbane.
Pertanto, CERUSI adotta l'approccio innovativo di RSI_LAB Caravans, portando il progetto alle persone, raccogliendo le sfide nelle loro comunità, le loro idee e fornendo un quadro di supporto temporaneo che si prevede di trasformare in una partnership tra attori locali interessati a supportare la loro regione.
CERUSI si basa su strumenti sviluppati in altri progetti dell'UE incentrati sull'innovazione sociale e sull'imprenditoria sociale.  Si avvarrà dei corsi di formazione per l'imprenditoria sociale e l'innovazione sociale sviluppati nel progetto Social (i) makers che saranno utilizzati per fornire ai cittadini interessati, agli innovatori e agli imprenditori moduli di formazione su temi legati all'innovazione sociale. Ancora più focalizzato sull'Imprenditoria Sociale è il progetto SENTINEL, che ha sviluppato un manuale di Imprenditoria Sociale che sarà promosso attraverso CERUSI. Ultimo ma non meno importante, CERUSI promuoverà attivamente anche l'uso del modello RAIN-Business, un concetto elaborato nel progetto UE LiveRuR che combina i principi di economia circolare e inclusione sociale con modelli di sviluppo aziendale all'avanguardia. Questi elementi presi insieme e mescolati con lo scambio transnazionale di conoscenze ed esperienze aiuteranno le regioni rurali a capitalizzare le loro potenzialità e creare uno sviluppo regionale socialmente inclusivo.
Il progetto è co-finanziato con i Fondi Europei nell'ambito del Programma INTERREG CENTRAL EUROPE. L'ammontare assegnato a Fondazione di Modena è pari a 75.077,56 euro di cui l'80% a carico FESR che ammonta a 60.062,04 euro.
Partners
GmbH ZSI – Centre for Social Innovation (Lead) – Austria
Regionalmanagement Burgenland GmbH – Austria
Social Impact – Germania
Fondazione Democenter-Sipe  – Italia
Foundation for Improvement of Employment Possibilities PRIZMA – Slovenia
EPIC non-profit organization – Slovacchia
Cooperation Fund Foundation – Polonia
Regional Development Agency of South Bohemia – Repubblica Ceca
Fondazione di Modena – Italia
Associated partners
Union of Towns and Municipalities of the South Bohemian Region – Repubblica Ceca
Development Agency of Banska Bystrica Self-governing Region – Slovacchia
Municipality Zavrč – Slovenia
PRJ HALO, Haloze Rural Development Centre – Slovenia
Per approfondire:
Progetto Cerusi, bilancio dei primi sei mesi di attività
Aree rurali europee, Fondazione partner del progetto Cerusi